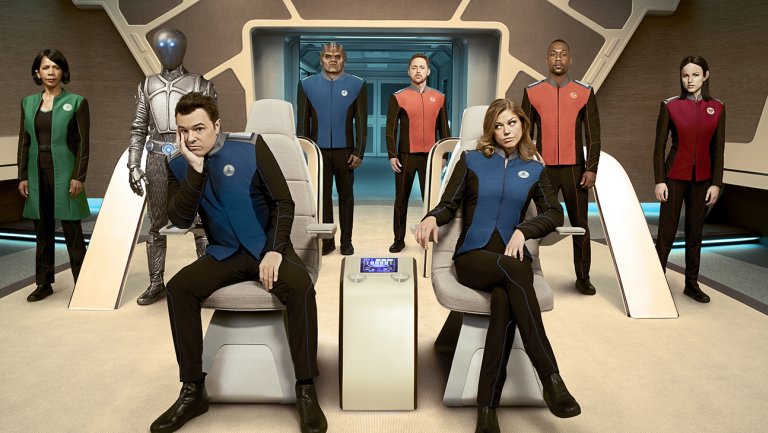 Last Sunday night, FOX aired The Orville, a science-fiction comedy show created by the one-and-only Seth MacFarlane, much more famous for Family Guy and American Dad. What is strange is how divided critics and audiences are split on this particular show. The Rotten Tomatoes score is 17 percent, which is quite low and would usually signal a definite cancellation. However, it has a 90 percent love from audiences. How in the world can this happen?
Is The Orville Pilot Recap
I guess since I write online, this makes me a critic. I will have to say that I was less than thrilled at Seth MacFarlane's foray into space fiction, but I do think that 17 percent is too low of a grade. I would at least give it a passing grade, and yes, that would be a D, something in the 50-65 range.
The Orville opens by showing the New York of the future of 2147, and the world looks very lush and green. I will have to commend the special effects on this from the get-go.
Ed Mercer (MacFarlane), the main character, comes home and discovers his wife, Kelly Grayson (Adrianne Palicki), in bed with an alien. The alien is ugly and blue, and spews blue liquid from his head because…it's Seth MacFarlane, and he is known for pushing the envelope, and why wouldn't you want to see how an alien has an orgasm?
This is the tone set at the opening, but really fails to deliver for the rest of the episode. The issue is that I am glad, because I would rather see a lot of great science-fiction action rather than MacFarlane's normal gross-out humor. The rest of the episode is essentially a better-looking episode of Star Trek: The Next Generation.
In fact, after Mercer receives the command of the Orville, which looks to be a brand-new vessel, the crew is introduced rather lazily. By lazily, he just gets his senior officers together and essentially talks to them about their positions. It isn't very exciting, and it is more tell than show.
The first mission of the Orville sends them to a planet for a supply mission. As it turns out, this planet has some new technology that can age something or someone 100 years in a few seconds. As it turns out, this weapon is wanted by the Krill, a race who travels in green spaceships like the Romulans and look like Klingons.
There's an interesting way where they stop the villains, which is a mix of technology and strategy. I'm not going to spoil it, but during the credits promises a lot of episodes with a lot of space action.
Is The Orville Worth Watching?
Yeah, the Orville feels like Star Trek, which is the point, apparently. In fact, the only "original" plot point comes from finding our that Mercer's second-in-command is his ex-wife, creating awkward tension. The problem is that a similar awkwardness was done on Other Space, where the captain had his sister be the second-in-command.
Even the commercial breaks, effects, and music seem ripped off from the late-eighties/early nineties Star Trek era. It doesn't seem to succeed as a comedy, as there are only a few jokes, and many of them don't work. If MacFarlane was going for Star Trek parody, it was kind of already done with Galaxy Quest back in 1999, which parodied both Star Trek and its fans.
The Orville feels like a copy, and even though everything looks better, it is not even an superior copy. It feels like The Orville is a vanity project from MacFarlane, who has a track record of success with animated shows like Family Guy, American Dad, and not The Cleveland Show. He also has success with Ted, Ted 2, and not Eight Million Ways to Die in the West. It's very clear that he is a huge Star Trek fan, and that's probably good, because who doesn't like Star Trek?
The answer is a lot of people. Sure, it is a show that probably invented the term "fanbase", but some think it is only for Trekkie nerds. If that is you, then you will hate The Orville.
So Why Are Critics and Audiences So Divided on The Orville
So what is with the schism between critics and audiences? Perhaps fans of Star Trek: The Next Generation remember that the first season was terrible as that show had to establish its characters and world. The Orville seems to have its characters and setting established with a simple Copy and Paste, and perhaps audiences enjoy what has become Seth MacFarlane's trademark lazy writing.
In other words, perhaps the audience might like the concept of The Orville rather than its execution, at least until Star Trek: Discovery comes out. Personally, I think MacFarlane is best at parody, which is visible in his Family Guy Star Wars episodes. There was also a parody of Die Hard on The Cleveland Show which was easily the best episode in the short-lived series. Maybe audiences realize that and can't help but like it, which can be the only explanation that I can think of.