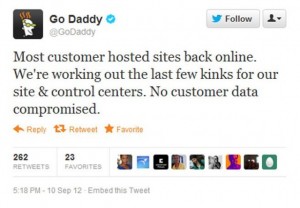 Yesterday, I tried to do some posting on this site, and I got some sort of "Service Down" warning. Uh-oh! I just looked at the number of hits I received yesterday, and it was not as much as I would have liked to see.
I just looking for things to report this morning, and I found that this outage was a result of GoDaddy being hacked by some sort of hacker collective known as Anonymous. I'm guessing that they are unrelated to the Hackers from the film Hackers.
Now that the customer sites are back up and running, GoDaddy is pleased to announce that "no customer data compromised". I am quite pleased with that.
Last weekend, my Internet was down. I have noticed about a subscription to services. If they are down, they never compensate you for the time lost. Is there a service that does that?