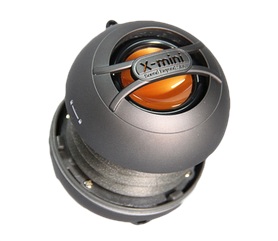 Considering that 2012 was the year of the Bluetooth speaker, it is interesting to see that not everything has to be Bluetooth to be a speaker.
The X-mini UNO Capsule Speaker has decided to nix the Bluetooth for a simple 3.5 mm connection. It is a small speaker that can twist open to extend a few inches like an accordion.
Inside is the company's pride with a ceramic tweeter, which can produce a wider frequency range covering higher and lower sounds than a traditional aluminum tweeter.
Battery life for the X-mini Capsule speaker is up to 20 hours with a maximum playtime of 18 hours, and it recharges with USB for 2-3 hours.
I am told that another bonus of this speaker is that it can daisy chain together with other X-mini UNO speakers to create a lot of sound from small sources.
You should be able to purchase the X-mini UNO capsule speaker on the X-mini site for 49.90 SGD (look it up for a translation) in colors of gun metal, blue, green, orange, purple, and red. The expected delivery date is January 2013, so hopefully you can get yours this month.