In a world where car accidents and hit and runs occur, people need additional security in their vehicles. This security can be found in this featured product, the Xiaomi 70mai Dash Cam Pro.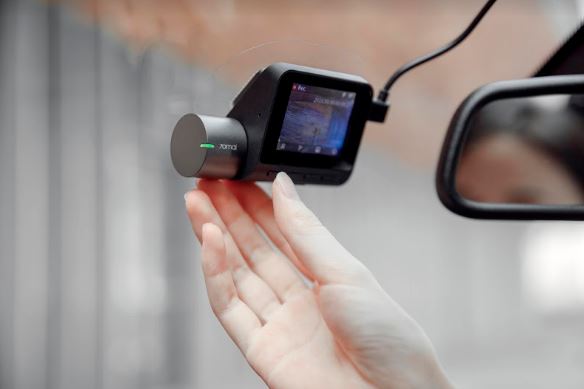 The 70mai Dash Cam Pro is a 5 mega pixel camera with 1944p, which means you are going to get a very clear image in both light and dark conditions. There is also a defog algorithm, which will produce a better image in situations of snow or fog. All in all, you are getting a good deal in this little camera from China.
Installing and set-up of this camera is a breeze. A free downloadable app helps make things easy- as well as step-by-step instructions on the camera screen itself. It's powered through the long car charger that you can hide for aesthetic purposes. Plugging it into the cigarette lighter will keep it powered, but when the car is off, it has a 500 mAh capacity battery to give it power when the car is off. This allows for recording to happen if something bumps your car. The camera will automatically record and send you notifications through the app when events like this happens.
Another great feature is that this camera is voice controlled. If you see a great vista, and want to capture it, you can do so safely. You can safely get a picture of what is in front of you without trying to fiddle with a cell phone or other camera when it's not safe, and in many areas- illegal, to do so.
Some of the features of this camera are not available unless you purchase the GPS system to go along with it. It's only $10 more, and will provide you with advanced protection like notifying you when veering off the lane, or if you get too close to the vehicle ahead of you.
Package Contents
70mai Smart Dash Cam Pro
Car Charger
USB cable
2 Electrostatic stickers
Wiring tool
Heat resistant adhesive
Mounting Bracket
Manual
The website directs you to purchase it from Allie express for the discounted price of $54.99 – 81.91.
We were given a camera for review purposes, but all of our review contains a fair and unbiased analysis of this product. If you'd like to support us through buying one in our Amazon Affiliate link, you'll find it below.