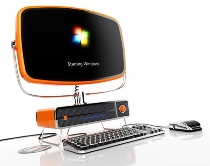 This is an interesting concept PC that clearly heralds back to an era when TVs looked like this.
Even the keyboard and its base look like something from the fifties. Is that a dial that I see on the right? I am guessing that the button on the left is for power.
Of course, this comes from Yanko Design, which is usually good at creating concept devices that usually don't end up seeing the light of day.