Computer hacking and phishing seem to be common problems these days. I'm always hearing about some new thing to be on the lookout for. We need some added security in our pocket. The Yubikey Security Key NFC by Yubico can help solve this dilemma in a simple little device that attaches to your keychain or lanyard.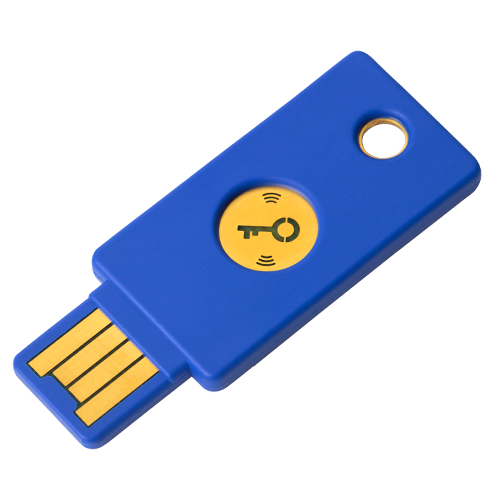 We reviewed a similar product by Yubico not long ago. I remember what I learned about internet security then. Sites like Google suggested 2FA (or Two Factor Authorization). This key will provide that 2FA without the extra hassle. It also has FIDO2 and U2F support for single factor passwordless login and multi-factor authentication with user touch and PIN .
This handy little key is super secure and easy to use. You simply plug it in a USB-A slot, and tap the button (which is NOT a biometric reader).  You can use it to log into Windows, Google, Facebook, e-mail, and all kinds of other sites. This can give your laptop some extra security if someone comes across it in the public, they won't be able to get access to anything on your computer (unless you have left the key in it).
This security costs $27 for one. The other key reviewed was $40, so this seems to be cheaper. You can also purchase multipacks- cost efficient if you are a company using these for employees.
You can find this and other Yubikey products on their website, and even on Amazon.com(for only $20). We received a free one in exchange for our fair and unbiased review. No other compensation has been given.