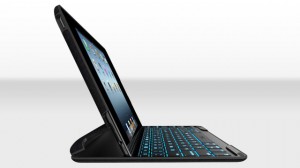 I realize that there are a lot of people looking for iPad accessories this Christmas, and I would like to recommend the ZAGGKeys PRO folio+
The PRO folio+ is nothing really new, but it is a thin portfolio case for your iPad that comes with a keyboard built right in. For those that want the clicky-click of keys while they are doing their iPad work, this is for you. It has a magnetic closure to secure the iPad.
Like I said, this is nothing new, but what I like about the PRO folio+ is that it has an adjustable backlight with 7 colors. It was also easy of the new iPad to recognize it.
If you are looking for this for you or someone else, feel free to head down to the ZAGG site and lay down $129.99 for it. Check out the Solo Keyboard while you are at it.