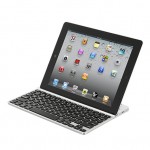 If you are not familiar with ZAGG, it is a company that stands for Zealous About Great Gadgets. They have good reason to be zealous about this Bluetooth keyboard, the SOLO.
According to the SOLO's website, it pairs with iOS and Android devices. On the box, it pairs with iPad versions 2 and 3, and the Galaxy Tab 10.1. I tried pairing it with my Android phone, and it didn't exactly work.
However, when it does work, it can do a lot. It has some great shortcut keys like Cut, Copy, Paste, Sldie-Show, and even an Android key for marked functions for Android users. It also has controls for music and video like the Volume, Play/Pause, and all of that.
The SOLO has a slot in it for putting in the tablet in portrait or landscape mode. All in all, it is pretty good and you can get it on the ZAGG site for $69.99.
While you are on the site, you should check out the Invisible Shield, a product designed to protect your mobile device in a thin layer of plastic. Check out those for the iPad and iPhone, not to mention anything else here.
Oh, ZAGG also owns the rights to iFrogz. While you are on their site, check out the Animatone Over-Ear headphones.