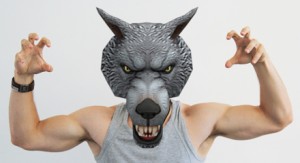 I totally live to report on products like the Zaphat, and I will tell you why as soon as I make it clear what it is.
Imagine living in a world where augmented reality allows you to hold up something like a tablet or smartphone and see another head on your friend's body. Yes, you will need a hat with a special QR code but this is what the Zaphat provides.
Go ahead and watch the video and you can see that you can put more than just a wolf's head on your friend. You can also interact with the head, so if you want to make an eyeball pop out, just press something on the touchscreen. I believe that the one wearing the Zaphat will be able to turn their head, and the image will follow.
I can't believe how cool this product is! This is one of those things that I can easily see catching on, and I can't help but wonder what else will be next. If we can do the hat, can we do the shirt? Could we make it so anyone with a special QR code will be given wings? Can we make augmented reality pants that could turn your feet into something like Mr. Tumnus the fawn?
Well, this tech should be available "soon", but I don't have an exact date.