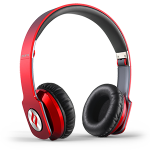 I have been reviewing a lot of wireless Bluetooth headphones lately, and I was disappointed that the Zoro Fashion Hi-Fi Headphone or Cellairis Zoro High-Def Stereo Headset was wired, but I am not disappointed that I have to 'wear a wire" with these guys.
I found that the Zoro Stereo Headphone made a lot more noise than I thought it would. It is slightly smaller than the Throne by I-MEGO that I reviewed a few days ago, but it feels just as loud.
I've looked over the official site and it looks like it has a "hand-selected neodymium magnet speaker" with "high clarity, non-destructive sound effects". All that means that it is quite loud on the ears, but very, very good.
Oddly enough, it can be folded up, and it comes with a special carrying case as well.
I do recommend these headphones. You should be able to get them on the Cellairis site for $129.99 in Black, White, and Red.