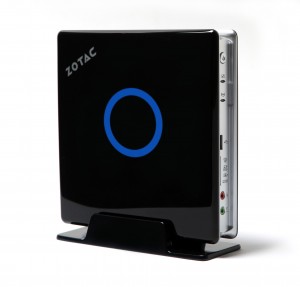 Right now, I am at a big video game convention in Seattle known as the Penny Arcade Expo, or PAX. Yes, there are a lot of big video games companies showing off their stuff, and occasionally you will see something that even non-gamers will love.
Such is the case for the Zotac ZBox. These are stand-alone computers that come in a box that is quite small, taking up less space than the Wii. For example, the ID80, seen here, has an Intel Atom D27000 dual-core, NVIDIA GeForce GT 520 GT 520M GPU, with NVIDIA PureVideo HD technology.
It also has other stats, and I will allow you to visit the Zotac site for more information. There are also more ZBoxes that I could ever write about in one posting. Some of you might not know what the above stats mean, and that is completely okay, because I am somewhat of a stranger myself. What you really should know is that these Z-Boxes are all the computer you will need, provided you have a monitor, mouse, keyboard, and any other type of accessory. You can connect it via HDMI and there is 6-in-1 memory-card reader.
In short, the days of the tower are numbered as the Zotac makes computers for the desktop like a laptop. The lowest price that I can see for one is about $239.99, and I hope that we can try one out so we can recommend it.