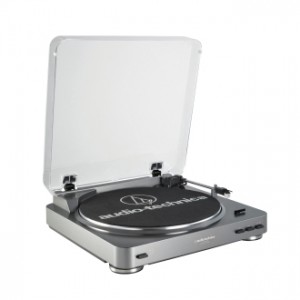 I'll be honest when I say that the Audio-Technica AT-LP60-USB LP-to-digital recording system is definitely for a niche crowd. I think it is just plain odd that I got into cassettes back in the early eighties, and then when the nineties happened, I was doing CDs. I think that the rest of the world was with me on this, so those who still have vinyl albums will love the AT-LP60-USB.
I think it is strange that vinyl is still a working format, when I will have to scrounge to find a new album on cassette or 8-track. Fortunately, the AT-LP60-USB allows for a direct connection to the computer with a USB output. From there, you can put your tracks on an MP3, and the AT-LP60-USB also has a built-in switchable phono/line preamp that allows connection to a stereo system equipped with either a phono or line-level input.
To help out getting the your tracks as digital files on your computer, there is some Mac and PC compatible Audacity software. I'm not certain what more can be said about the AT-LP60-USB other than vinyl enthusiasts will love it. In fact, there are reviews of it on the Audio-Technica site that are positive, and I like it to. If you are a vinyl enthusiast yourself, you can get for about $149.95.