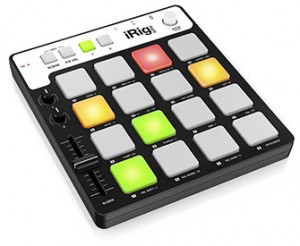 We're probably not going to have a lot of posts this week, just like we had last week. The reason why is it is a holiday, plus I will be traveling to CES in Las Vegas and will have to take a few days off for the excess trip.
Since it has been a while since we had a giveaway, I thought I would end this year with one final one. It is the iRig Pads from IK Multimedia. It is a product that we have reviewed before, and you can read the review here. It is a MIDI Groove controller, if you want the short form.
If you want to win this, it is simple. First of all, Friend The Geek Church on Facebook. This article will be on it, and you can share and like the article from there. Second, simply leave a comment on which one that you want, and then we will enter your name in a drawing to win.
We will have our final drawing on New Years Day. I will send a Facebook message to the winner, and if you, the winner, send me your address, I will send you your prize. Yes, this is a way for me to get the word out on this site, so what are you waiting for? Enter! By the way, if you want to leave a comment on this article, that counts as an entry.