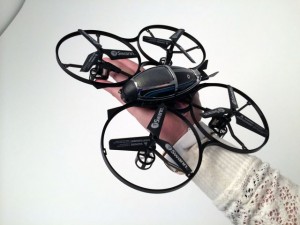 Well, I seem to have two things that attract me to this subject matter. First, it is from Swann, and I have had the opportunity to review two of their products very recent. The first was the SwannEye HD and the Doorphone Video Intercom. Then there was announcement that Amazon made the other day that drones could be delivering your stuff.
Swann has made this Quad Starship that is essentially a mini quadcopter, and it is similar to the AR.Drone, a popular product from Parrot. These four rotors allow for flips and tumbles, and it can be controlled for 330 feet away with 8 minutes of flying time. The remote takes AA batteries, and it is actually made for outdoor flight.
So will we see this Quad Starship deliver packages in the future? They might have to be lighter. I don't have a price for it. It is available now for $79.99.