Pixel Pals™ are an officially licensed collection of light-up, pixelated iconic characters brought to you by Performance Designed Products. Such characters include Mario, Luigi, Link, and Vault Boy from Fallout 4. We have been given the new 30th Anniversary Edition Street Fighter Pixel Pals™ to review.
Chun-Li is number 11 in the Pixel Pals™ series. Fans of Street Fighter II will recognize her as the first female fighter. She became a playable character in the game in 1991, and now is one of the most popular characters of the game. Now her fans can have a little 8 bit Chibi form that glows with the addition of two AAA batteries- not included.
Number 12 in the series is Ryu. I would think that he would come before Chun-Li, but ladies first, eh? Ryu, of course, was a main character in the very first Street Fighter game- which premiered in 1987. His character is wearing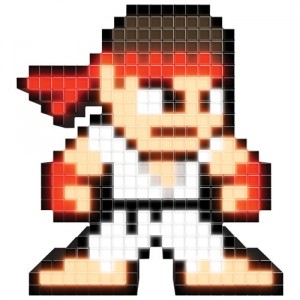 the classic gi, black belt, hachimaki(headband), and sparring gloves.
The plastic, pixelated, glowing characters stand at almost 5 inches tall, and a little over 4 inches wide. If you have a long shelf, you could line up all the 8-bit characters from your favorite game classics and have a little lighted parade!
We're told that the next release will be announced shortly. What game character would you like to see from Pixel Pals? Leave your favorite in the comments below, and go purchase the other characters for $14.99 on their website, or at Amazon.com. They are also available in Best Buy, Walmart, and GameStop stores.