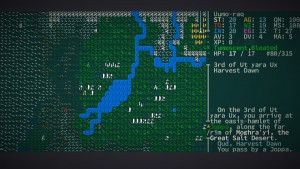 Caves of Qud is another game on Steam that I have reviewed, and it is one that I think will only appeal to certain types of players.
The issue that I had with Caves of Qud is the pronunciation. Is it Caves of Quid? Caves of Cod? Caves of Cud? Seriously, we are running out of game names these days that we have to just make up words like "Qud".
Yeah, that is nitpicking. Caves of Qud is one of those games that I have a hard time with, but I just don't feel that I am a hard core gamer. I feel that this game reminds me of Ultima III, which was a fantasy RPG that I played on a PC with a crappy monitor back in the eighties.
The Ultima III game involves having a party of characters and going through adventures. The controls are very difficult, and the fighting is also very difficult.
Caves of Qud has a difficult system as well, and it takes quite a while to get started. It reminds me of pencil and paper Role Playing Games (RPGs) where it takes years to construct a character before you can get started.
I hope no one is thinking that I am giving this game a bad review. I know Caves of Qud is a product of a lot of love and deserves a try. Hopefully you will like this type of gameplay, and if you do, then Caves of Qud is for you. You can find it on Steam for $9.99.