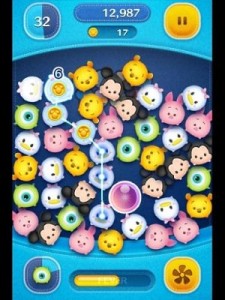 I will tell you that as a parent, my kids probably watch way too much Disney channel. With some exceptions, I cannot stand the dumbed-down programming on this station. At least it doesn't have too many toy commercials. Anyway, I passed by one night, I saw an ad for a gaming app known as Tsum Tsum.
Tsum Tsum (pronounced soom soom) is a very simple match-three game. I know that the gaming world is crowded with Bejeweled and Candy Crush, and another match-three game might not be even worth addressing.
Still, the gameplay of Tsum Tsum is quite addictive as the player links three or more of these Disney character heads for more points. There are a lot of nuances in this game, such as using a claw game to pick up and drop a lot of characters to link up. Then there this "Fever" level where the score goes up as you make links. In all honesty, I'm not certain how I can get my score higher, but I have only 160,000 as a high score. My daughter has 400,000 high score.
By the way, after I downloaded the free application, then allowed my kids to play it, it wasn't long before they were drawing the Tsum Tsum characters. I can't believe how quickly this became a fad in my house. Now they want the small stuffed animal Tsum Tsums as well. I wonder how long will it take to sweep the nation.