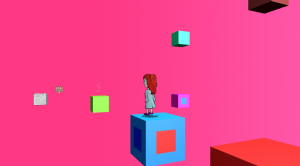 I suppose that I could call September "PAX month", because I will be covering all kinds of video games that I learned about at PAXPrime last week. I intend to spend each day covering at least one type of gaming-related article, and much of the source material will be something that I learned at PAXPrime 2014. Today, it is Drew and the Floating Labyrinth.
If you haven't heard of this game, I can understand that. PAXPrime is the place where you go to show off your game. Drew and the Floating Labyrinth is a very unusual game that is a puzzle game with interesting 3-D graphics and what looks like hand-drawn animation.
The premise is the Drew, a young girl, wakes up in some weird limbo with nothing but floating cubes. The player has to steer Drew on a path that is essentially invisible, until she gets to the end of the level.
I played this game and found it very intriguing. It is both simple and complex at the same time. You can find the game on Desura here, and I want to recommend trying it out. I got stuck on the sixth level, and I'm not certain where to go from here.