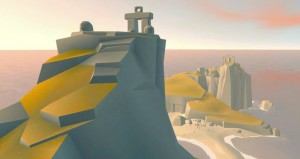 Some of you might remember a little game known as Monument Valley, and considering that it has been downloaded over 2.5 million times, it's hardly little. The makers of the game, Ustwo, is working on a game for virtual reality known as Land's End.
Land's End was definitely inspired by the CD-Rom game Myst, and I'm not going to explain that reference. I've always loved that game and its imaginary interactive environment, and VR certainly appears to be the tool that you want to view it in.
Land's End has that same blocky graphics style and mysterious music of Monument Valley, but instead of using a controller, players will be using their eyes. I'm not certain how that will work, but the video that you see below says that it is only for Samsung Gear VR. I guess HTC Vive and Sony PlayStation VR users are out of luck.
Land's End is planned to be available for the Samsung Gear VR on October 30th, but there is not a price point for it as yet.