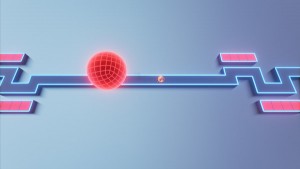 Just to let you know, Road to Ballhalla is an interesting game, but I'm not certain how to describe this. In fact, I didn't even really know what screen shot to use.
Just to let you know, in the screenshot that you see here, you are the smaller ball. This is one of those games where you are some kind of ball, marble, or other rolling object, and then go through an obstacle course. The last game that I reviewed like this was Marble Mountain, which I just realized I called Marble Madness in the title. You can't really blame me, as the game is like that eighties game.
Road to Ballhalla has more of a 2D thing going as you can roll through what looks like one of those rat mazes. The thing is if rats had to deal with lasers and other obstacles, they would probably…well, I'm not certain what the rats would do, isn't that why we do experiments on them?
What is very interesting is that Road to Ballhalla has a terrific tutorial with a tongue firmly in its cheek. I have to say this is a pretty unique take on a gaming convention, and it works to the game's credit.
For those who want to try this game out, it is possible to purchase it on Steam for about $14.99. There is a special going on for $13.49 at 10 percent off, but that could have expired by the time you read this.