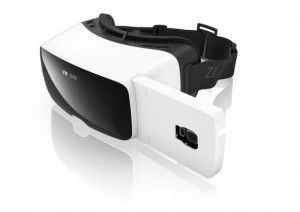 Some of you might remember my excitement when I first tried out the Oculus Rift. I also reported that Sony was working on their own VR headset with Project Morpheus. Now it appears that Carl Zeiss, most famous for their lenses, is creating their own product with the VR One headset.
The headset uses the display from the user's smartphone to make this work, provided yours measures in between 4.7 to 5.2 inches. The smartphone fits in some kind of tray or something, and its included lenses provide the user with a 100-degree field of view. I'm guessing that there will be some sort of apps that will go along with the VR One so you can see some cool 3D type of apps whenever you turn your head.
If you are looking to get the Carl Zeiss VR One, you'll have to wait until the end of the year. The price will be $99, and I think it will broaden this Oculus/Project Morpheus market VR market.