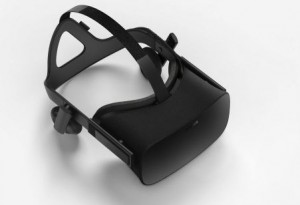 It's probably no surprise that I am reporting on this. After all, I have had a lot of love for the Oculus Rift for a long time now. I have been wondering when this technology would be available to the public, and it looks like I, and many others, will be getting their wish in Q1 2016.
The Oculus Rift has finally been made available after years of being some kind of weird project for a private platform. This headset is light enough to lift with one hand, and the user can wear it with glasses.
Sadly, it is not wireless (maybe next version), and you will have to drape a cable over the shoulder that presumably connects to a computer. Now here is some interesting news that shows that Microsoft is involved with the Oculus Rift: an Xbox One gamepad will come with every Oculus Rift headset. The gamepad will be wireless, but the games themselves, like Forza, Halo, and Sunset Overdrive won't be in 3D.
As an added bonus, Oculus is also working on some kind of motion controller known as the Oculus Touch. This will be wireless, and will use gesture-control to track in a virtual environment.
So far, there isn't any word on an exact release date or a price, and I'm not certain whether the Oculus Rift will catch on or end up going the way of Google Glass.