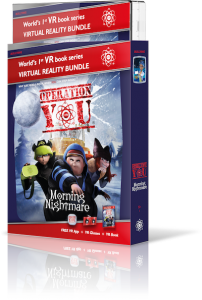 Okay, if you have been to Wal-Mart's book section, you might notice this particular book/package. This would be a book/VR program from publisher Quantum Storey known as Operation YOU: Morning Nightmare. It is apparently the first VR (Virtual Reality, but you probably already knew that) book series, and it is only available from Wal-Mart.
I'm going to say that their claim is correct, and this book comes with a pair of fold up VR googles so you can connect it to your smartphone. Yes, there is an app that you use for this, and I am very pleased to say that it was very simple to set up.
Personally, I used my own pair of VR goggles with the Powis ViewR 2.0, and I found that this program allows me to step into another world. This is something that I really can't describe, but hey, this is the lure of VR.
Unfortunately, I am going to say that I wasn't too impressed by the experience. Now, in case you think I am going to give this a bad review, I'm not. This would be like me reviewing Veggie Tales and saying that it is terrible because it is too juvenile.
Yes, I, a middle-aged man, am not the audience designed for this. This book has the big print of a Dr. Seuss book, and even is told with rhyme.
What is interesting is that while the virtual program was running, it was reading the words in the book. So in all honesty, the book portion of this…program is rather superfluous. Seriously, the program reads the book to me.
Another thing that is not interesting is the book's subject matter. The title of Morning Nightmare refers to the main character's experience on a bus, and dealing with bullies.
Yes, this is an anti-bullying story. In fact, I will spoil it and say that the book explains how to deal with bullying. For those that remember the 1980's, there were constant after-school specials and books that had an anti-drug preaching slant to them. These days, the youth of today are constantly told not bully, as my 15-year-old daughter will attest to from the numerous pep assemblies that she has been to.
I will have to say that the bullies of this book are creepy. One of them has a pet snake that will attack you, or something? Trust me when I say that you do not want to be trapped in a virtual world with them. Heck, I would rather be a powerless Neo with an Agent Smith than be stuck with these bullies.
Fortunately, this virtual program allows you to do certain actions over again should the bullies overtake you. By the way, these bullies took me out at least twice. When this happens, you end up being with this lady named Ray, or I will assume is a lady. It doesn't matter, but my point is that this book feels like it is trying to be one of those Choose Your Own Adventure books.
However, I love the interface of this book, and how I could just look at something in order to interact with it. It ends with me playing frisbee with a dog, but it wasn't as active as actually tossing the plastic WHAM-O discus with a hyperactive Labrador.
Geez, this sounds negative. I'm going to let you know that I believe that the technology for a VR series is there. The idea of a book that you can walk into is great, but I'm guessing that the programming of that is very complex. Morning Nightmare, the first book in this series, is really more of a proof of concept that this VR series works.
What I want to see is a more developed story that would be much longer. Perhaps the book and story could work together and not just have the program read to you. The issue is that this tech is still in its infancy, kind of like watching those old computer generated videos from the late eighties and early nineties, and then Toy Story changed everything.
I have a message for Quantum Storey. I'm going to come up with a way that this can really work, so you'll be hearing from me soon.
In the meantime, you can purchase Operation You: Morning Nightmare on the Wal-Mart site for $17.49.
Oh, there is more! Operation You has three books known as The New Kid, The Kings Birds, and A Soldier's Son. I have no idea what they are about, or even if the same characters will appear.