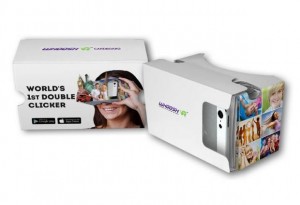 I really did a review of the Whoosh3D screen protector and maker of 3D on smartphones and tablets. Today, I am going to do a report on a VR viewer from Whoosh 3D.
Just to let you know, most of the time when I write about a product, even one that I am reviewing, I usually take what I see from the main site and put it in my own words. This time, I didn't really have anything from the Whoosh main site, which is odd, to say the least.
I had a chance to try this out, and it is a VR viewer that has double clickers. In all honesty, I am not certain why anyone would need duel clickers, because of the VR programs that I tried, I couldn't find one that practically used both of these.
Still, everyone needs to have one of these VR viewers, don't they? You might as well have one with two clickers, because this could easily be a standard.
I was able to find it on Argomall, and the price is ₱999.00, and I have no idea what that translates.