Those who struggle with nausea and vomiting may find relief after using this product. Reliefband 2.0. If you have these problems due to motion sickness, morning sickness(or all day sickness) or chemo, read more to find out if this band is for you.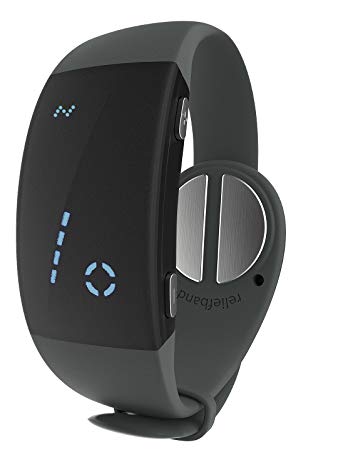 There are many drugs and other bands out on the market to combat motion sickness. This product is unique in that it looks like a FitBit, and works to provide relief through mild electronic pulses. These pulses can be adjusted in 10 different intensity modes. The first version of the band only offered 5 modes.
What you get with Reliefband
Included in the box is the Reliefband 2.0 device- offered in Charcoal or Denim Slate Blue. There's also a magnetic USB charging cable, and conductivity gel that you apply a small amount of with each use. Of course, instructions come along to explain more.
Features of the Reliefband
The two contacts of the band are placed at the underside of your wrist. The top wavy indicator lets you know that therapy is happening. The straight, dashed line is an indicator of intensity. The circle light indicates how charged the battery is. On the side of the band are buttons to increase or decrease intensity. The bottom button decreases the intensity, and also powers the band on and off.
Will This Band Work for You?
Many reviews are singing the praise of this band- especially with the extra settings since the former band. There seems to be a very small percentage of people it doesn't work for, but that could be due to their physiology. However, if you have problems with nausea or vomiting due to  vertigo, motion sickness(including use with virtual reality), morning sickness, chemotherapy, and even postoperative in order to avoid drugs, this could be a great product for you to use.
This great device costs $174.99 on the Reliefband website. There is a 60 day limited money warranty, so there is a small window to see if it works for you.
Thanks to Reliefband for providing us a unit to review free of charge in exchange for our unbiased and honest evaluation.