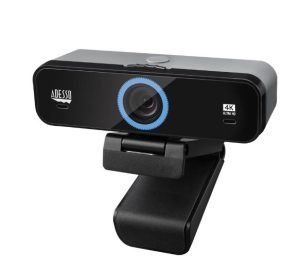 I checked to see how long it has been since we have reviewed an Adesso product, and the answer is a staggering 13 years. There is a lot of stuff that Adesso makes, and I was pleased to review the Adesso CyberTrack 4K Webcam.
The CyberTrack 4K webcam isn't any ordinary webcam, but a fixed-focus Ultra HD Desktop webcam with an 8.0 Megapixel CMOS Sensor with Maximum Resolution. It is good for 30 frames per second, and legit for ultra HD quality video with very good detail.
In addition to the excellent visual, the CyberTrack 4K webcam also has decent audio with built-in dual microphones. Other features include this cool audio and video shut off switch.
There is also a Field of View button on top which adjusts from 80/90/100/110/120 degrees for all kinds of scenarios. There is also a pan and tilt feature, a 3 axis position for even more views.
By the way, I checked, and the Cybertrack K4 works with Zoom, Facebook, Skype, Webex, Goto Meeting, Google Meets, and Microsoft Team.
I ran through all the features in the video below if you want to see it for yourself. If this sounds good to you, head on down to the Adesso site and pay $109.99 for it.