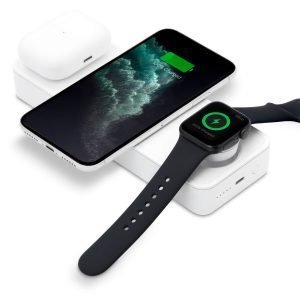 We just recently did two reviews of Eggtronic products, and we were sent a brand new product with the Wireless Power Bar. The last time I saw Eggtronic was at CES 2020, which, in the age of the Corona Virus, seems like an eternity ago. Anyway, they told me they had a different wireless standard, but this Wireless Power Bar uses the typical Qi standard.
I don't think that I need to explain that Qi standard at this point, you put a mobile device on a little platform, and it will charge it without connecting the charging cord, but magnetic induction. The Eggtronic Power Bar has three spots for Qi compatible devices.
Now, you can see the image here that there is a set of Airpods, an iPhone, and the Apple Watch all in one wireless charging place. You can even see that there is a specially made place that can pop up for that Apple Watch. Just to let you know, you got to dig in your fingernail to get that watch platform raised.
Also, I attempted to put two wireless charging phones on the wireless Power Bar, and I could barely fit them in, but it worked. By the way, the Wireless Power Bar comes with two USB-C to USB-C, which you can plug into the Power Bar and plug into the phone. So, you could actually charge four devices if you want to.
I am not certain how long it takes to charge the Eggtronic Power Bar, or how many gadgets you can charge on a full charge, but honestly, it looks to be made to connect to a MacBook.
You should be able to purchase the Eggtronic Power Bar on the Eggtronic site for about $119.99.