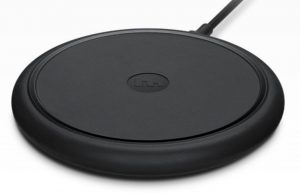 Oh man, it has been way too long since I reviewed a Mophie product! The last time was the Outride, and this company has been making some great stuff for a long time! Today, it something that I am very familiar with, the Wireless Charging Base.
I'm sure that name should give you a more than adequate description. If you are somehow unfamiliar with a wireless charging platform, they have this Qi technology that allows you to just put your mobile down on it, and suddenly, you can charge your device. You can do it pretty quickly at up to 7.5W.
So, I had the chance to try it out. It says that it is good for iPhone 8, iPhone 8 Plus, iPhone X, and other Qi-enabled devices, but I tried it out on the Samsung Galaxy S7 and S8. The S8 worked fine, and it even had a case on it. As for the S7, I found that I had to lay it on the Wireless Charging Base in a certain way to get it to work. What really surprised me is that I was able to wirelessly charge my LG G6. I had no idea that it was capable of that.
So, I guess the moral of this story is if your smartphone isn't set-up for wireless charging, then it probably actually is. Yeah, I'm just hoping that all smartphones are capable of wireless charging eventually. It used to be that you had to buy something like a Powermat and get some weird contraption for your phone.
As of now, you can purchase the Wireless Charging Base from the Mophie site for about $59.95.