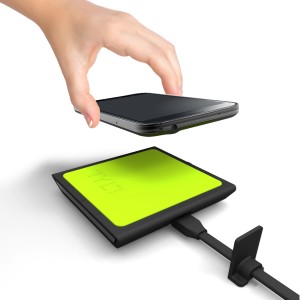 It would appear that our friends from TYLT, makers of the Alin, are up to their old wireless charging tricks with the VU SOLO.
Now I have covered wireless chargers before, and I might as well go into the whole schtick I do about how every family should have a wireless charger because we can just put the mobile device on the charger and forget about it…blah, blah, blah. So yeah, the VU SOLO plugs into a USB, the micro USB plugs into the pad, and then you put the mobile device that is Qi powered.
So what makes this different? Well, different phones have their charging coil in different places, and sometimes, if you don't set the phone down in the right way then it won't charge at all. Fortunately, the VU SOLO has an adjustable "fence" on its cord so you can place it right. Okay, that didn't make much sense, so I'll just let the video after the jump explain it.
In addition to that cord feature, the SOLO has some kind of sticky stuff on the surface so it will hold still on the table, or wherever it is.
Okay, if my press contact is correct, the VU SOLO should be out right now. It is available here, and this probably won't be the last time that I write about it. I plan to do a hands-on review of it, right before the holidays.