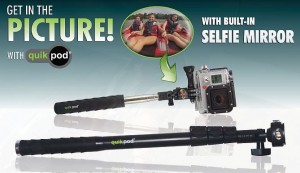 Since the word "selfie" became the word of the last year, it only stands to reason that a product like the Quikpod could make this year. What you are seeing is both the Quik Pod DSLR/POV Ultra (bottom) and the Quik Pod Explorer 3 (top).
The Quik Pod DSLR/POV Ultra is compact at 18 inches, but it can extend up to 53 inches. It ways about 9 ounces, and is made for the Go Pro. As for the Explorer 3, it is more compact at 8.5 inches, and it can extend up to 39 inches. It weighs in at 6 ounces, and it can handle cameras that are one pound (the other can only hold half that weight of a camera).
I believe that both of these products are completely waterproof, and they have a built-in mirror for…yeah, I really don't want to say it. These Quik Pods also come with quick-release handles and rubberized grip handles as well.
Head on over to the Quik Pod site if you want to see more.