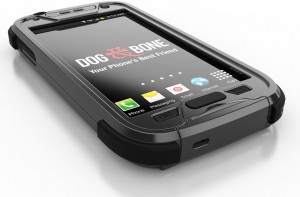 I am reviewing a lot of mobile batteries lately, and these type of waterproof cases are another product that I am seeing a lot of. Let's just say if all these waterproof cases were represented by one company, I might be talked into buying stock for it.
This is the Wetsuit from Dog and Bone. If you haven't heard of them, then you might want to join my club. I happened to stop by their booth at CES, and I have officially tried out one of their products.
I believe that this company states that this is the first waterproof mobile phone case to go topless with a direct touch screen. I suppose Lifeproof nuud was not the first, and the Wetsuit is IP 68, the highest level of ingress protection from water and dust.
Yeah, this is waterproof up to 2 meters, and it is good against snow, ice, dirt, sand, and shock from 2 meter drops. For some reason, the drop test and underwater test are usually the same value on products like these.
I do like some interesting rubber thing on the back that helps with the grip. You should be able to get the Wetsuit on the Dog and Bone case site in Electric Orange, Electric Blue, Silvertail, Sea Breeze, and Blackest Black for AU $79.99.