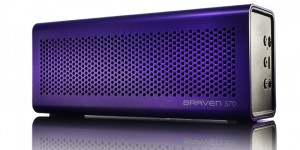 Okay, it is time to talk about truth in advertising. Braven is one company that I have talked about before, like with the 855s, and I had a chance to review the 570, also known as "The Life of the Party".
I will have to testify that this is true. From the moment I turned on the 570, it made an incredible bass sound, and I am pleased to say that it stays quite loud an very bass-full. I know that word is sort of made-up, but this has 6W of power, if that helps.
It has a pretty impressive battery life of 10 hours, and it has an impact-resistant case. Other features include the speakerphone, and it can be daisy-chained together with other speakers.
If you want to get in on this, head on over to the Braven site and pay $99. This is a summer special for its usual price of $119.99, and it comes in Blue, Green, Purple, Red, White, and Black.