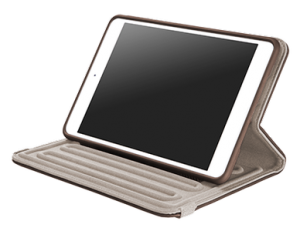 Today is the third part of the Domeo trilogy. This won't be like the Eagle trilogy, where I had four parts. As far as I can tell, I have exhausted the entire Domeo catalog!
The problem is that I have nothing new to say about the Recliner for the iPad Mini. I have seen a lot of the features of the Recliner Mini on the Recliner for the iPad. Instead of the Bubbles that the tablet in place, it has these lines.
Please don't interpret this as a bad review. Let me conclude by saying that Domeo really knows what they are doing, with these iPad accessories. I would highly recommend them, and you can get the Recliner Mini here for $44.99. While you are there, check out everything Domeo related.