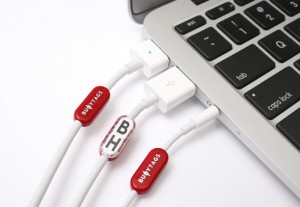 I always like reviewing products that I didn't think that I needed. In the case of Buoy Tags, it addresses an interesting problem that I haven't had, but I'm sure that other people have had them.
It's those darn charging cords or earbuds from Apple, they are just so white and they all look alike. It would be so easy to just walk off with someone's accessory. However, if you have a Buoy Tag on your Apple accessory, you will be able to put any label on it that you wish. So you can say: "hey, that's mine", and be right. I love it when I'm right. Heeheehee.
It is quite awesome, and if you like being right about stuff, you will love Buoy tags. If you want to get this, head on over to the the Buoy Tags site and you can buy three for $12.