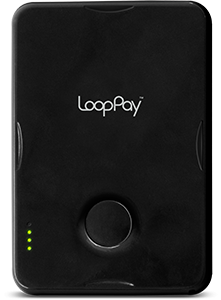 I have said several times before on this blog that we are slowly exchanging our wallets and putting them in our smartphone. This is where LoopPay comes in.
What you are seeing here is the LoopPay Card, and it is virtually payment system that is accepted at over 10 million stores and restaurants. It works on Apple products and on any Android device with 4.3 or above.
This how it works:
1) Download, install and launch the LoopPay App – select "Create Account".
2) Once your account has been created, you'll be emailed an activation token. Copy or enter the token from your email into the LoopPay app.
3) After successful activation, please follow the LoopPay Startup Wizard instructions to load your cards with the LoopPay reader and configure your LoopPay account.
So how do you pay with this? Well, you have to have a desired default card selected for Button Pay in your application. On the main screen, it says "default accessory card" underneath the payment card. You can set up the card that you want, and set it as the default card.
When you get to the store, you have to tell them that you are using LoopPay. If they don't know what you mean, just tell the cashier to follow the same procedure of using a credit card. Just place the LoopPay Card in the ceneter of the card slot and press the button on the Card. Should the car you wish to pay not work, select the card you want to pay and tap the screen image of the card to transmit payment.
So, are you wanting to join the mobile pay revolution? Apple thinks so with Apple Pay, but I honestly don't think it will be long before everyone can get on this system. Head on over to the LoopPay site and check it out for yourself, and while you're at it, see if you can't get the case for your phone so you can carry the LoopPay Card out. The LoopPay Card itself costs $49.95.