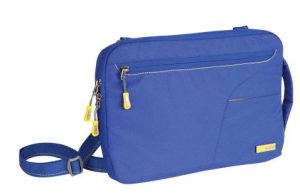 I had a chance to try out STM's products at CES, as they were nice enough to give away a laptop bag like this as I came through the door.
This particular Blazer allows for carrying around a 13-inch laptop, and it has a zippered pocket made for all kinds of accessories as well. There is also a pocket on the front made for holding a phone as well. The strap is handy as it is removable, and it is all pretty well and good.
If you want it, you can go to sites like Amazon and pay about $35.58 for it. I don't know how long that price will stay that way.