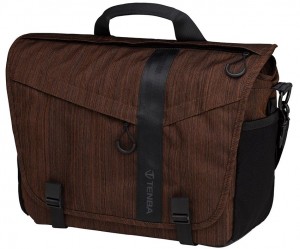 I have to admit that I have stopped by Tenba's booth every time that I have been to CES, but this would be the first time that I have ever reviewed one of their products. This Messenger DNA 13 Bag is made to hold a mirrorless camera with 4-5 lenses or a DSLR with 2-3 lenses, plus flash and accessories.
The Messenger DNA 13 Bag is made for those who are on the road like bike messengers and it keeps the cargo inside safe. What is interesting is how the front straps don't snap into place, but they kind of slide magnetically into place. I've never really seen anything like it, and perhaps it is unique to this product.
Another thing that is unique to this product is the silent Velcro. At first I thought it was a crock, because it kept making the thwack sound. However, if you push it down instead of just ripping it up, it does come off silent.
Another bonus feature is a rear padded sleep that will hold a laptop up to 13 inches, and a second sleeve to protect an iPad and similar-sized tablet.
You should be able to purchase the Messenger DNA 13 Bag for about $159.95 on the Tenba site in colors of Graphite, Olive, Cobalt, or Dark Copper.