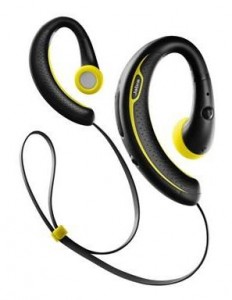 I've always been a big fan of Jabra products, and just after my review of the Solemate Mini, I am pleased to review the Sport Wireless Plus. The Sport Wireless Plus is one of those cool Bluetooth headsets that is actually two Bluetooth headsets in one, joined together with a wire that drapes on the back of the neck.
Like most Jabra products, the device verbally prompts you to pair it. It wasn't really difficult at all, and in less than a few minutes I was listening to my favorite MP3s thanks to its powerful bass. The earpieces are shaped so they will fit in the ears really well, and it comes with 7 sizes of silicone eargels if it doesn't.
In addition to being prepared for the more active lifestyle, they are tested against rain, shock, and dust. Heck, they are water tested with 1.8 liters per minute. Another feature is a built-in FM radio that works at the touch of a button, that works without a smartphone or tablet attached.
If you want to get in on these, find out some more information on the Jabra site here. You can get it on the Amazon site for about $95.00. If you get it now, you can get 3 months free subscription to Endomondo Premium, an online fitness app.