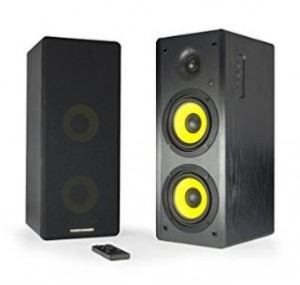 It has been a while since I have reported on a Thonet and Vander product. The last time was with the Kürbis BT Bluetooth Speakers, and these are speakers that very much rock. Also, they really like to brag that they have "German Engineering". Today, I'm going to discussing the HOCH BT and the LAUT BT Speakers.
Let's start with the HOCH BT, and it has some "pure, authentic sound" with 70 W RMS (35W + 35W) Power Output with 350 watts of peak power. I know those numbers are important to audiophiles, but let's just say that it is loud, loud, and more loud.
Also on deck with these HOCT BT stereo speakers have a high desnity acoustic absorber that "prevents vibration and ensures sustainable performance". They are also made of some HDAA wood and mesh as well. The HOCH BT is a 2.0 Speaker for crystal-clear sound and a great bass boost with 350 W peak power.
As far as connectivity, what do you think the BT stand for? Yeah, it can do Bluetooth, which will connect to any mobile device with Bluetooth compatibility. Oh, it can do RCA stereo input for wired devices as well.
You can find out more information about it on the Thonet and Vander site and it looks like you can order them on Amazon for $249.99.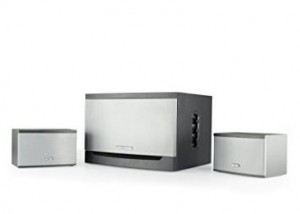 And now it is time to talk about the LAUT BT, which is a 2.1 speaker characterizes for having a balanced and harmonic sound. It has a Crystal Clear, Authentic Sound, with its 68W RMS (34W + 17W x 2) Power Output for delivering 340 watts of peak power.
Remember what I said about the bragging of German design? It has the sophisticated acoustics with a high density acoustic absorber for the highest sound resonance. The LAUT BT is apparently made to become a home theater, and it is made for really bringing some serious sound to life!
What is very interesting is how there is an option for Bluetooth and RCA connectors, and yet there is a Bluetooth extension that is good for up to 132 feet. I have to admit that is pretty great.
Anyway, the LAUT BT is available on Amazon for a special price of $106.95, which is a markdown from $179. You can always go to the Thonet and Vander site for more information as well.