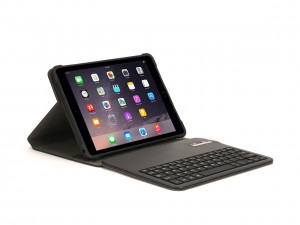 I have reviewed a lot of Griffin Technology products before, and this is another iPad accessory with the TurnFolio with keyboard for the iPad Air 2.
TurnFolio with keyboard for the iPad Air 2 is pretty cool product with a Bluetooth keyboard that sticks to the Folio with a magnet. This allows the user to take out the keyboard and then prop up the iPad so you can type on your Apple tablet like you're using a laptop or (dare I say it) like a Microsoft Surface.
The iPad Air 2 can link to the Folio and supposedly "snaps out to use on the go". Now, I had the chance to try it out for myself, and the case it comes with doesn't really snap in very easily. It actually took a while to put it back in. However, once it is in, it can be rotated 360 degrees.
I think it pretty interesting to try this out, and it doesn't feel like leather, but it is a good alternative. There is another feature that wakes up the iPad Air 2 automatically when the cover is opened.
All in all, it is good deal for the iPad Air 2, and it is available on the Griffin Technology website for about $99.99.