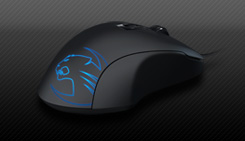 I have tried out Roccat products before, such as the Kone [+] Gaming Mouse. Now that I have had a chance to try out the Kone Pure, I can't help but compare the two.
First of all, it is 91 percent of the Kone [+], in size. It has the cool cord but instead of having a 6000dpi Pro-Aim Laser Sensor, this has a 8200dpi Pro-Aim R3 laser sensor. The Kone [+] has an integrated Tracking and Distance Control Unit (TDCU), and the Kone Pure has "a mighty 32-bit Turbo Core V2 72MHz ARM MCU processor, and the most advanced Tracking & Distance Control Unit around".
The buttons make it possible to store a lot of macros. One of the things I like is the Easy-Shift button, which allows a new feature for each of the eight buttons. For example, we can do a page back and forward on an internet browser, volume control, and changing tracks. The buttons can even perform special functions on World of Warcraft.
You might notice that the Kone Pure is different from the Kone [+] in that it does not have the rainbow light effect. It does have the light-up effect on the logo, with its 16.8 million-color lighting system.
You should be able to purchase the Kone Pure on Amazon for about $69.99, and find out more information on the company site here.