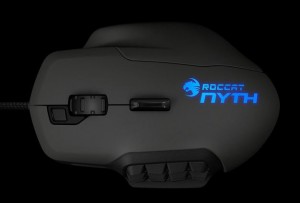 I have reviewed ROCCAT's products before, such as the Kone Pure and the Kone [+], and both were gaming mice. The Nyth is a an MMO mouse, and it looks like it is made for the professionals. I first saw it at PAX Prime, and I didn't know why it was called Nyth, and I didn't get an answer.
Anyway, the issue with this mouse is it is really interchangeable. There is this Modular Thumb Zone where you can place up to 12 high quality, tactile mechanical buttons. Believe it or not, it is capable of arranging buttons in 18,369 different layouts. There are also some seriously great Hotswappable Side Grips, so you can get some serious side action. In case you want some portable action, there is a case that can hold it all.
As most MMO gamers know, you will be using these buttons, and there is some Easy-Shift button with 39 buttons and a hardware/software layout of one sextillion combinations. Also included in this Nyth, has some Swarm which even has more possibility.
All in all, the Nyth is quite a good mouse, and it can be purchased on the ROCCAT site for $129.99.