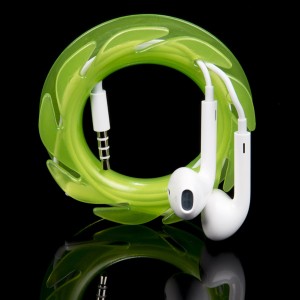 Have you ever thrown your earbuds into your backpack, only to pull them out later and find them a tangled mess? Would you like a fun, colorful solution to that problem?
The Loop is a little gadget that you simply insert the jack of your headphones in, and wind the cord in the direction of the blades. They will then place nicely into the blades when fully wound. Pretty simple and basic, but you can find a video of how it works on Youtube:
The Loop retails for $16.99 for a pack of 3, $48.99 for a pack of 10, and $350 if you need 100 of them(they can be stamped with your business logo for swag freebies!). Designed in the U.S., made in China, but they are good for the environment- as they are made from recycled content, and they are recyclable.

Visit ipocketloop.com to find out more and purchase your own! They can also be found on Amazon.