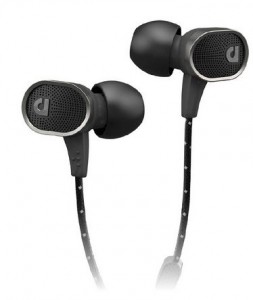 I have reviewed products from Audiofly before, such as the AF56m and the AF45. So, I was quite pleased when I had a chance to try out the AF78M.
The AF78M comes with Hybrid Dual Drivers with some well-defined response to mid and low frequencies. It has some foam ear tips to mold to the ears so you are going to have some great sound in your ears.
Did I mention that there is a mic attached to it? Perhaps I didn't really have to, as the mic is kind of a standard feature when it comes to earbuds these days. In the case of the AF78M, the Clear-talk Mic and Control allows for making calls, using voice prompts to control music playback via the microphone and button.
In addition to the great sound and microphone, the cable is also braided and made with some serious CORDURA fabric. An additional feature is this really cool storage tin with and Audiofly "A" on it.
If this is something that you want to get a hold up and get in your ears, then I will just go ahead and recommend it. It is available currently on the Audiofly website for about $199.99 to $209.99.