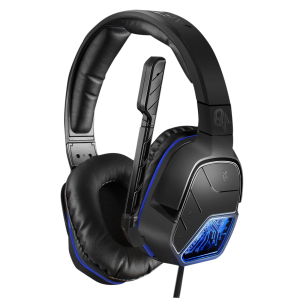 Well, it has been a while since we have reviewed a PDP product, and they are best known for creating video game accessories that can glow. I requested quite a bit of products from this company, and I was surprised that they sent a bunch to me. Today, I'm going to be talking about two products, specifically for the PS4 with the Afterglow LVL 5 Plus and the Afterglow AF 9.
The LVL 5 Plus has 40 mm Neodymium drivers as well as a dynamic haptic driver. This great sound will be on your on your head in the form of a comfortable headband design, and you can drown out the rest of the world with some over the ear cups.
While I'm on the subject of ear cups, PDP was smart enough to put the volume and mute right on the ear cup. There is also a nice and adjustable boom microphone.
Oh, and by the way, it does have the lights. They are blue because it is the PS4. I think the model for the Xbox One is green. I wonder if the color of the lights is some kind of standard for gaming systems.
You should be able to find the Afterglow LVL 5 Plus on the PDP site for $49.99. Okay, just to let you know, the Afterglow LVL 5 Plus for the PS4 is a wired headset, but the Afterglow AG 9 is completely wireless.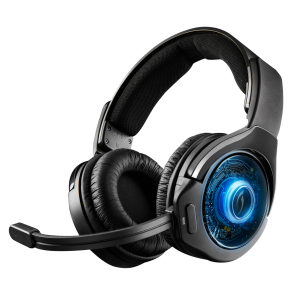 Well, I suppose that is as good of an excuse to start talking about the Afterglow AG 9, and it has powerful 50 mm drivers with two distinct audio modes of Bass Boost and Pure Audio. It also has a unique headband design for adjusting for comfort, and it has the blue lights.
Another feature is the boom microphone that is flexible and removable. Yes, it is made for making conversation online while you are playing on the PS4. The wireless capability is achieved thanks to the included USB transmitter.
You should be able to purchase the Afterglow AG 9 on the PDP site for $99.99.