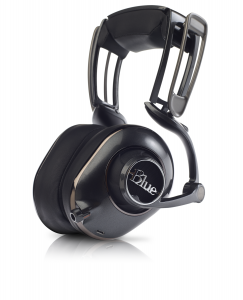 Last January, when I went to CES 2014, I stopped by Blue Microphones. I have reviewed their products before, such as the Nessie. They were showing off the Mo-Fi headphones there, and I didn't get a chance to try them out, but I like what they are doing with them.
The display that I saw at CES was this walk through thing that looked like something out of Disneyworld's EPCOT center with "The History of headphones". That isn't an actual ride at Disneyworld, but Blue Microphone showed that headphones have changed throughout the years. The Mo-Fi is "the first headphone that delivers real audiophile performance and sound quality on every device from professional studio gear to laptops, tablet, and even your phone".
Yeah, you don't need that bulky amplifier anymore, and there is a three all-analog amp modes. You can see that the Mo-Fi has some interesting construction like an adjustable tension know, reinvented headband construction, and earcups that actually fit your ears. Yes, I took that from the website, but it is really is worth noting on this.
Now, just so you know, the Mo-Fi does run on batteries, but it charges completely in 3-4 hours for 12 hours of use. By the way, if you are not using the headphones, they will shut down to save your battery life.
If you are familiar with Blue Microphones, then you know that they make some really, really quality USB microphones that even professionals will use. I am guessing that the Mo=Fi is made for professionals as well. This could explain why they are priced so high for about $349.99, that's the price I see for them on Amazon.