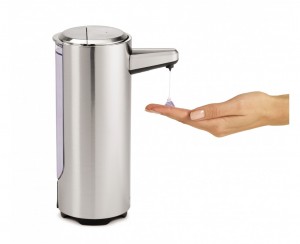 You may notice the "Part 1" in the title, and this is because I had a chance to try out some Simplehuman products this week. I will start with the Rechargeable Sensor Pump, a definite way to get soap on your hands without the germs.
The Rechargeable Sensor Pump is made of brushed nickel that can hold 11 ounces of liquid soap. All you have to do is wave your hand underneath, and you will have 0.2 seconds of quick soap.
In other words, you can have the liquid soap without hitting the top of a dispenser. In case you are worried about clogs, it has a silicone valve to prevent those. By the way, the top opens up very easily so it is easy to put soap inside.
So how is it powered? Not by batteries. That's right, you plug in the Rechargeable Sensor Pump with the included USB cord, and you have the power.
If you want to get some of this power on your bathroom or kitchen counter, head on over to the Simplehuman website and pay $70.00 for it. It comes with a 2-year warranty.