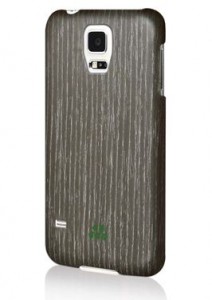 I have been reviewing a lot of cases, but I always like reviewing the wooden ones like the one from Toast. I had a chance to review two new ones from Evutec, and they are certainly are terrific.
The Evutec cases are the snap-on types, and they are 0.9 mm thin with multi-pressed wood veneer outer shell with DuPont Kevlar fibers. I am told that these fibers are five-times as strong as steel and won't block WiFi or GPS.
What you are seeing on this particular image is the Wood Black Apricot S Series Case for the Samsung Galaxy S5. They sell for about $39.95 on the Evutec site, and they are available for smartphones like the iPhone 5/6.