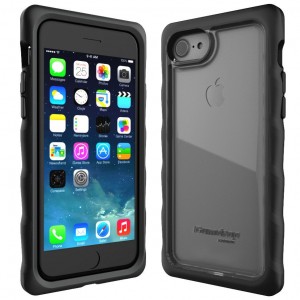 Okay, this is the last review of a product from Gumdrop Cases. This time, it is the DropTech Series for the iPhone 7, and it is different than the other ones that I have reviewed.
Unlike my first three cases that I have reviewed, this Gumdrop Case is made for the smartphone. I was thinking that it would have that tire tread look to it, but it actually is a transparent case. The border is that rubbery feel that feels imported from the aforementioned tire tread tablet cases.
Just to let you know, the transparent protection is only on one side. So it will cover the back of your iPhone, but you will have to purchase a screen protector for the front. By the way, the case has an obvious "Gumdrop Cases" label on it. Then again, I don't think I know any case of a protective case that didn't have a label on it.
All in all, I would recommend this, so head over to the Gumdrop Cases site and lay down $34.95 for it, and snap in your iPhone 7.