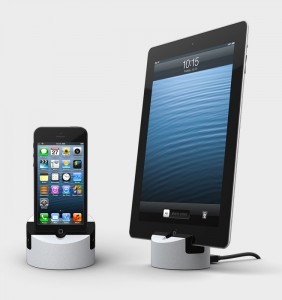 Some of you might remember my review of another Henge Dock product yesterday with the Vertical Docking Station. Today, I am fortunate to review another cool Henge Dock product with the Gravitas.
For those of you who are not familiar with the namesake, Gravitas means "weight, seriousness, and dignity". For some reason, I remember this word was a buzzword in a recent presidential election. What it means for Henge Docks is a cool stand for the iPhone or iPad.
Like the Vertical Docking Station, the Gravitas is metallic, and it weighs 2.5 pounds. It has a Lightning connector so you can place your iPhone/iPad within for charging or syncing, and since the Gravitas is so heavy, it will hold your favorite Apple phone or tablet.
In addition to being able to sync with a desktop or laptop via included USB cable, there is also an audio line out to connect your iDevice to external speakers.
It this is something that you are interested in, head on over to the Henge Docks website and lay down $69 for it. I think it is regularly $89.00.